Wedding Chapels in Michigan
Though the Michigan Wedding Locations page featured a few of our favorite places to get married and to celebrate your reception, many people prefer to be married in an elegant chapel. We've fallen in love with these two wedding chapels in Michigan, and we recommend them both highly to you!
Both locations offer old fashioned personalized service and a truly gorgeous setting for your once in a lifetime nuptials! And you'll be happy to know that they both offer indoor and outdoor ceremonies so you don't have to worry about rain! We can't think of any better places than these to share that special day with your partner and all your loved ones.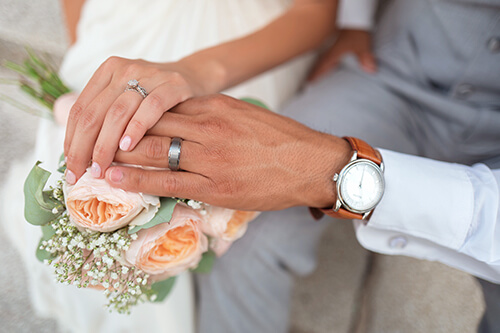 Victoria Wedding Chapel
This is truly one of the most elegant locations you could ever choose for your wedding day. It's located on beautiful Silver Lake, in the historic Villa Victoria, and you will not find a more romantic French Mediterranean style place in which to celebrate your big day.
There are both indoor and outdoor locations here so you can take advantage of a beautiful day and hold the ceremony outside, or enjoy the warmth and comfort of the chapel itself. The gardens make a really memorable place to take those professional photographs as well.
You can find Victoria Wedding Chapel at 2776 Dixie Highway in Waterford, and they can be a reached by phone at (248) 673-5111.
Cobblestone Chapel & Wedding Garden
Cobblestone Chapel & Wedding Garen is located at the elegant and historic Cobblestone Manor. If you're not familiar with Cobblestone Manor, it's a truly luxurious bed and breakfast in Auburn Hills. The area is truly breathtaking... you will not find a more awe inspiring location in which to say your vows.
As with the previous location, you can choose from an outdoor wedding or a lovely indoor one in the chapel. We particularly love the bride and groom's quarters, separate areas where the lovely couple can dress and prepare for the ceremony and enjoy the company of the bridal party.
You can find Cobblestone Chapel & Wedding Garden at 3151 University Drive in Auburn Hills, and you can give them a call at (248) 370-8000 for more information.